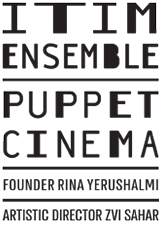 The first adaptation of its kind for adults, based on Janusz Korczak's 1923 children's allegory "Little King Matty and the Desert Isle."
Matt is a ten-year-old newly orphaned prince who must take over the throne after the untimely death of his parents, the royals. The child-king refuses to accept resignation and cynicism to the injustices of the world, declares himself a "reformer king", and seeks to establish a utopian kingdom for children and the disenfranchised. He soon discovers that the job of ruling is a fraught one indeed, and he is forced to go through an accelerated process of growing up.
The show invites us to embark on Matt's journey, in the wake of a lost childhood, of resistance, triumph, and failure; a brief moment before the sobering reality of adulthood hits.
An Epic Space Odyssey in miniature!  Part toy theater, part B movie sci-fi adventure, Planet Egg joins obsolete electronics together with high-performance salad fixings and brings it all to life through its unique mix of lo-tech moviemaking and old fashioned puppetry. 
A story told with visual language, Planet Egg is the perfect show for international audiences of all ages!  Hope you're hungry…
"Inventive, nutty and wonder-inspiring…"  (Washington Post, Editors' pick)
"Planet Egg is one of the most ingenious shows…  you will be absolutely delighted!" (DC Metro Theatre Arts)
Click here for more Planet Egg!