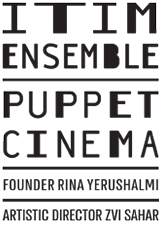 Itim Ensemble
The Itim Ensemble operates as a theater laboratory, aiming to develop new ways of working with aesthetic complexity.
About the Ensemble
The Itim Ensemble was founded in 1989 by Israel Prize-winning director and creator Rina Yerushalmi. The ensemble acts as a theater lab which puts an emphasis on the process of work and research. Each project re-examines the relationships between the different elements of theater – space, time, audience, performer, language, movement, design, and the stage composition itself. At the end of the process, a new theatrical language emerges, which departs from the existing rules and reinvents itself from scratch.
Artistic Perception
Zvi Sahar, the Itim Ensemble's stage director and artistic director, continues the ensemble's tradition of collaboration based works.  in every project. As Rina's student and an actor in the ensemble, Zvi carries on the spirit of the ensemble, with research, collaborative creative work and the development of new visual elements. The shows' performers come from various artistic worlds: theater, music, photography, plastic arts, dance, and puppetry. Everyone takes part in the creative process, collaborating with the director while at the same time growing their performance skills. Today, the ensemble's performances are based on the language of PuppetCinema, which was developed by Sahar. His shows 'Salt of the Earth (The Road to Ein Harod)', 'Gulliver', 'Suddenly' and 'Planet Egg' enjoyed international success and critical acclaim.
The ensemble works closely with the Cameri Theater.
Contact us
Sderot Sha'ul HaMelech
19, Tel Aviv-Yafo,
Office 03-6063936
Box Office
03-6060903/4/5/6