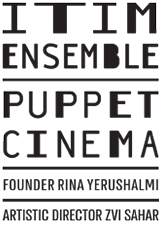 PuppetCinema
Theatre. Cinema. Puppets. On one stage.
PuppetCinema is a visual language that turns the stage of the theater into the set of a film, with the entire process of making the film unfolding in front of the audience.
PuppetCinema
Using a cinematographic aesthetic, a documentarian's eye, and the tropes of cinema verité, PuppetCinema productions shape the audience's focus with a strong and steady hand. The audience has the feeling that the show is being created right in front of their eyes! Reality and fantasy are blurred and a sort of double vision occurs. But make no mistake, it's all about the story.
What began as a creative experiment in Israel in 2009, has evolved into a mission to explore a dialogue between puppetry, object theater, film, foley and live feed. PuppetCinema was born out of a desire to build an artistic synergy between these complementary mediums, where they can happily co-exist and thrive.
Background
Alongside his work as an actor in the Itim ensemble, Zvi Sahar sought to express his own unique theatrical language combining multiple disciplines. Together with Oded Littman, he produced Richard III which integrated live feed video and theater. Sahar continued to explore and specialize in contemporary puppet theater in New York City, where "PuppetCinema" was born: a marriage of live performance and film combining and breaking the rules of both.
Contact us
Sderot Sha'ul HaMelech
19, Tel Aviv-Yafo,
Office 03-6063936
Box Office
03-6060903/4/5/6